By Dan Washburn
The Times
A debacle.

That's how Chris Watford describes the chain of events that began with the 1995 closing of Yonah Mountain Rd., the only access road to the top of White County's Yonah Mountain, home of some of the region's best rock climbing walls — and perhaps the most beautiful view in the state.

But five years ago, citing vandalism and harassment from rowdy visitors to the 3,156-foot overlook near Cleveland, Ga. landowners closed the 2.5-mile private road.

Nearly each year since, the U.S. Forest Service has assured mountain-goers that a new public access road, with parking lot and trail, was on the way.

But for more than a year, there has been no assurance and no movement in the project.

"It's real frustrating," said Watford, an avid rock climber and southeastern representative of the Access Fund, a national climber's advocacy group. "The Yonah deal is the worst access issue that we have. But I've had to focus my energies ... on other areas because this thing is at a standstill."

The Yonah situation is a tricky one, with public land surrounded by a large buffer of private land. The only legal way to reach the more than 700 acres of Chattahoochee National Forest atop the mountain is by foot, along Yonah Mountain Rd.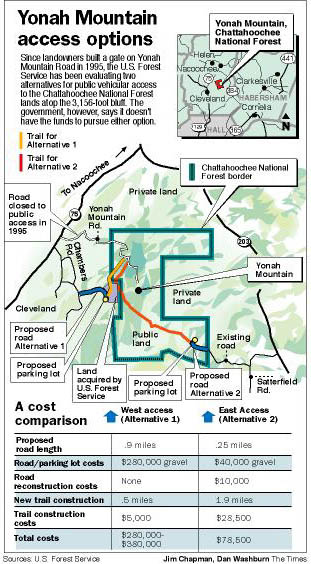 "Up and back that's nearly six miles of walking," said Gainesville climber Michael Crowder, noting that climbers also must lug heavy gear on the hike. "You could be in North Carolina, climbing on a North Carolina cliff, quicker than you can climb on a cliff 30 minutes from town."
Climbers aren't the only ones affected by the closure. Thousands of hikers and sightseers once visited the summit. Partyers would, too — it was they, landowners said, who presented the biggest problem. In all, nearly 35,000 vehicles a year would travel the winding road off of Ga. 75 north of Cleveland, the Forest Service said.
People continue to visit Yonah. However, many have found shorter routes to the top than Yonah Mountain Rd. One problem: All of these paths cross private property. Homeowners are put in an uncomfortable position.
"Some of these people are really nice people, and they've been ... taking their kids up there," said Lanier Chambers, who owns a large tract of land beneath Yonah's cliffs.
"You feel really bad about it. I don't want to fuss at them and run them off. I think the government ... sort of trained these people to go up there, saying it's all right for the last 30 years. And now all of a sudden they're not providing a way for them."
Chambers said he has confrontations every weekend with some of the mountain's not-so-nice visitors. And he often is picking up their trash.
In 1997, Chambers thought he had solved the problem. He sold 46 acres of land to the Forest Service and gave the government a right-of-way two miles long and 60 feet wide through his property. Chambers was told a new access road and parking lot would be built.
"They haven't done anything," said Chambers. "They don't really want to do anything, I don't think."
Peech Keller, resource assistant for the Forest Service's Chattooga Ranger District in Clarkesville said the government is weighing the environmental effects of two road alternatives, one that uses Chambers' land and another with a different approach to the mountain.
"But we don't have the funding for either option," said Keller. "Since we don't have the money my priorities are elsewhere."
Not everyone would like to see a road built.
"It makes everybody mad when I say this, but I like it better now," said Carl Kirkpatrick, a Gainesville resident and climbing guide for Appalachian Outfitters in Dahlonega. "It's a lot cleaner and I don't mind the hike."
Now Kirkpatrick does his instructing at Currahee Mountain near Toccoa, Northeast Georgia's only bluff with total public access. An attempt by the Forest Service to close Currahee's access road last year was quashed after a public outcry. But Currahee can't accommodate visitors in large numbers like Yonah could.
"(Yonah) is where all of us learned (to climb)," Watford said. "It's so convenient, and also it's the closest rock climbing to the City of Atlanta. I think it's important that it opens back up."
See also:
Access denied: Owners, users spar over land
Atlanta man buys 230-acre West Fork of the Chattooga River tract
Off-road vehicle enthusiasts look for room to rev engines
Despite support, skate park plan still stalled


Dan Washburn is a sports writer for The Times in Gainesville, Ga.
Copyright © 2000 by The Times